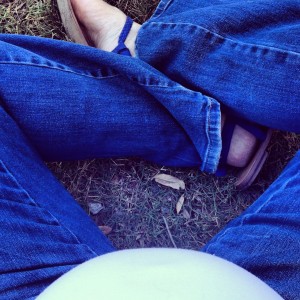 I have a couple of really close friends who are pregnant for the first time, and today over at The Happiest Home I wrote them a little letter.
Here's a little bit of the post:
For just an instant I marveled at the vast distance between that new mom that I was and the one I am now. Five years ago I would have been seated on the couch in proper breastfeeding posture, a nursing pillow on my lap and the TV remote by my side, watching the clock as if it held the answers to all my feeding questions; this morning I sat at the kitchen table surrounded by chaos, drinking coffee and eating cereal while nursing this third and final babe without a clue (or a care) about the clock.

And in that instant I was thankful for both of those versions of me (for one allowed the other to become, of course). And I thought of you.
I'd love it if you click over to read the whole thing – and, if you're so inclined, share with a new or expecting mama in your life.