When I first started reading blogs in 2009, I found most of the ones I read via Babble's Top 100 Mom Blogs list.
There's always a little back-chatter about this list (and others like it) from those who aren't big on ranked lists or who question the criteria for making the list in the first place, and I can see that side to the argument (after all, there are many many great online writers who never appear on a major list). BUT, but. If you're new to reading blogs and want a sampling of mom bloggers – witty, helpful, funny, wise, irreverent, popular, edgy, artsy, or whatever your thing is – this is a good place to start.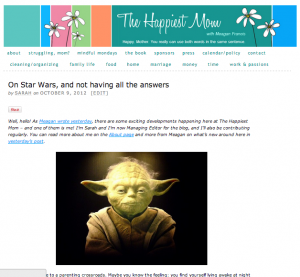 I'm pretty sure that the Babble list is how I first discovered Meagan Francis's blog The Happiest Mom. One of the things I liked about Meagan immediately was that she had a great combination of realistic, scaled-back expectations on what motherhood really is (i.e., she understands that sometimes you don't take a shower) and a belief that it can be fun and fulfilling and doesn't have to be hard all the time (i.e., she challenges you to make time for that shower anyway, because you'll feel better afterward).
Where a lot of blogs go for one extreme or the other ("OMG this sucks! My kids are nightmares where's the vodka already?!" vs. "Motherhood is bliss and look what I made for dinner while crafting from Pinterest and my children all take three-hour naps every day"), Meagan strikes a great balance. I liked her immediately (in the way you like someone you've never met. Obviously.)
Last fall Meagan offered a freelance writing class for blogging/writing moms and I was lucky enough to take it. I met ("met") some amazing bloggers and writers and learned a ton about getting published online and in print. And then this summer, just as I was coming out of my first trimester fog and looking to get back to writing, Meagan approached me about working for The Happiest Mom as Managing Editor (a role I already play for Scottsdale Moms Blog) as well as a contributing writer. She's taking the blog to the next level with regular contributors and guest authors and I get to help make it happen.
I'm super excited about this. I've been working behind the scenes for about a month, but yesterday it was made public and today my first post is up. It's about Star Wars. Actually, that's impossible because I don't know anything about Star Wars. Which is what it's about. And parenting, and stuff.
Would you head over to The Happiest Mom and read it? I'd appreciate your reading (and commenting, if you feel inclined). While you're there, add the blog to your regular reading list – good things are happening over there!