Oh, you didn't know? We're putting our third baby in a closet – come along for the ride! Here's the first post and here's the second.
Here's something to know about putting baby in a closet: no amount of creatively cropped and artfully filtered photographs will make the space look cute in pictures. When I show people our nursery-in-progress in person they all oooh and aaah at how cute and cozy and surprisingly roomy it is. But when I go to take pictures…well, let's just suggest that no one sends the images to Child Protective Services. 
Until. OH MY oh my oh iPhone 5. Mr. Powers finally got his upgrade and I went into the closet to test out the panoramic option on the camera. Isn't it cool? (you can click the photo itself for a bigger view)

So now for the updates.
I ordered this wall decal for the big gray blank wall:
Below is the corner where the bassinet and/or Pack n' Play (pictured) will go. We have the Arms Reach Mini Co-Sleeper already, which may start out next my side of the bed initially and then move into the closet. Depending on how long she's "in confinement," we may switch to the Pack n' Play (pictured) eventually.
And below is the opposite wall with a sweet dresser we moved over from my closet. Which is now OUR closet.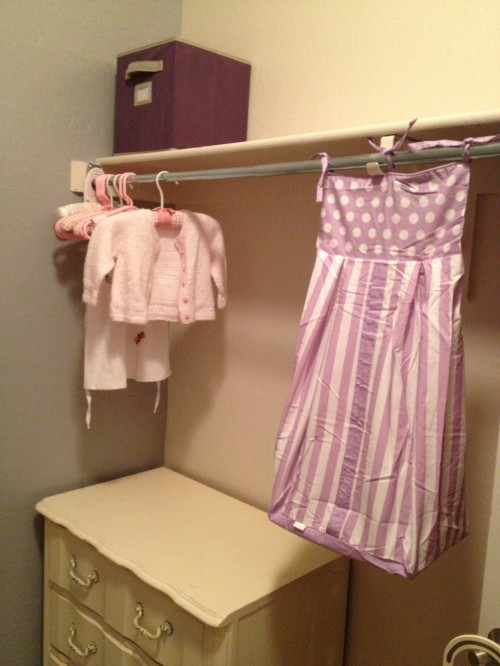 (Oh, that? The purple hanging thing? That's a diaper stacker. I ordered a diaper stacker. You know, because I've gotten through two kids without one so they must be super essential, right? Especially when we do not plan to have a changing table in the closet nursery. Also I compulsively buy stuff when I'm nesting.)
And perhaps the biggest development of all is what's been happening over on the East side of the Master bedroom. We're cohabiting, people. Living in closet sin (where "sin" = my personal inability to put clothes into the hamper that is RIGHT. THERE. Sorry, babe.).
Here's a picture of our shared master closet, which I know is the real reason you are reading this blog.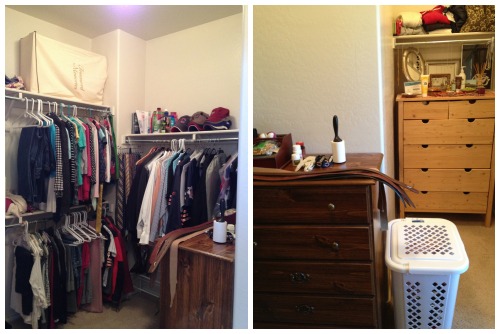 Six and a half weeks to get this project done and ready for baby. (Who's counting? Me!)
Until next time!