This was our third summer spending time in Portland and the third year in a row visiting the same family, staying in the same place, doing many of the same things at the exact same time of year.
There is something about returning to a place you have been before, only with children who are a year older. The place is the same and yet in it they are different people. Where there was a crawler (almost-walker) last year, this year a toddler runs by. It's different than the passage of time as we notice it at home – slowly, in milestones that are staggered and varied; it's a big flashing reminder sign that a year goes by quickly, but oh so much changes when they are small.
This year I found myself taking the same pictures, too. With a little help from PicMonkey (free online photo editing – warning: addictive), it's fun to see these same photo-ops side by side.
At the park…
(The one above didn't start out as an intentional photo-recreation, but as I was taking the shot I remembered the sweet picture from last year with his hands in the air, so I asked him to do it again. He's all, whatever MOM.)
At the self-serve face painting station (BEST IDEA EVER, Portland Children's Museum)…
Not only is each kid a year older, but because their birthdays fall around the same time of year, Boy Powers was the same relative age this summer that Girl Powers was two years ago, our first Portland trip.
Bubble bath, age 27 months (her) and age 26 months (him)…could my children look any LESS like each other?
Watering tomato plants at Great Nana's house…
And then there's the generational symmetry, too, as some of these people and places are repeats of experiences I had as a child. I made this side-by-side last year, after riding the train in Washington Park to the Portland Zoo. That's my dad with me and my brother on the left, and me with the kids on the right. Same train, nearly 30 years later.
And this one is not actually from Portland but from our other summer adventure in Tahoe. On the left is Boy Powers and my dad, on the right is my brother and dad. This one was, admittedly, an intentional recreation of the original.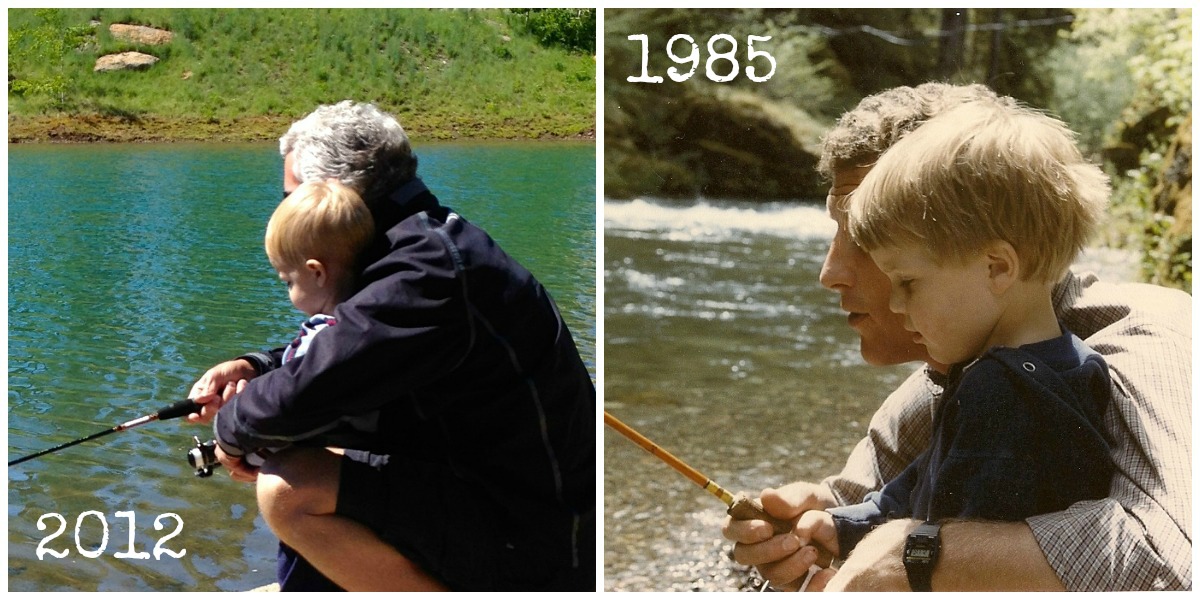 Do you find yourself comparing photos from years past? Any fun photo-collage tips?